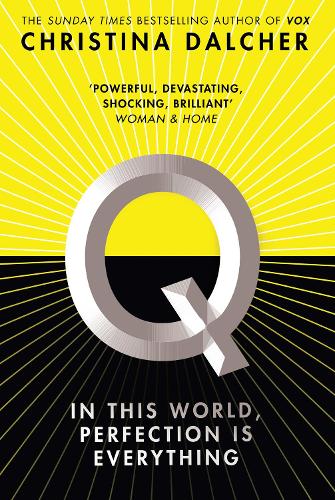 IN THIS WORLD, PERFECTION IS EVERYTHING
Elena Fairchild is a teacher at one of the state's new elite schools. Her daughters are exactly like her: beautiful, ambitious, and perfect. A good thing, since the recent mandate that's swept the country is all about perfection.
Now everyone must undergo routine tests for their quotient, Q, and any children who don't measure up are placed into new government schools. Instead, teachers can focus on the gifted.
Elena tells herself it's not about eugenics, not really, but when one of her daughters scores lower than expected and is taken away, she intentionally fails her own test to go with her.
But what Elena discovers is far more terrifying than she ever imagined…
Online Blanket Fort Review
Having read Vox in 2018 (it was one of my top 5 books of that year), I was thoroughly looking forward to Christina Dalcher's follow-up, Q. Imagine my disappointment when realising that Q seemed to be Vox retold. I very nearly gave up at 15% through as the story really appeared to be following the same arc as Vox. If I wanted to read Vox again that's what I would have done.
In the end I did enjoy Q to an extent, the premise is terrifying and the writing is spot on. Elena is a character that I wanted to succeed from the outset – if only to stick a massive 2 fingers up at her horrid husband, Malcolm. I don't often hate characters in a book but Malcolm is just a horrible specimen.
Dalcher has discovered her style of writing. It's formulaic – repressed woman in a dystopian near future, faces down man, ultimately wins for the greater good.
If I hadn't read Vox previously then I would have rated Q much higher. However, Vox and Q are just too similar and this did detract from my enjoyment of the story as a whole.
Disappointing follow-up.
Q is published by HQ, an imprint of Harper Collins on April 30th 2020. My thanks to the publisher and Netgalley for allowing me access to an advance review copy.
---
I received an electronic proof of this book from Netgalley. This review forms my honest and unbiased opinion.
---
This review contains Amazon Associate links for both Vox and Q. Should you choose to purchase either using my links then I shall receive a small commission at no additional cost to you.